Free Digital Planner Apps (5 Top Picks)
Looking for the best free digital planner apps to try out digital planning this year? We're sharing our top 5 picks…
---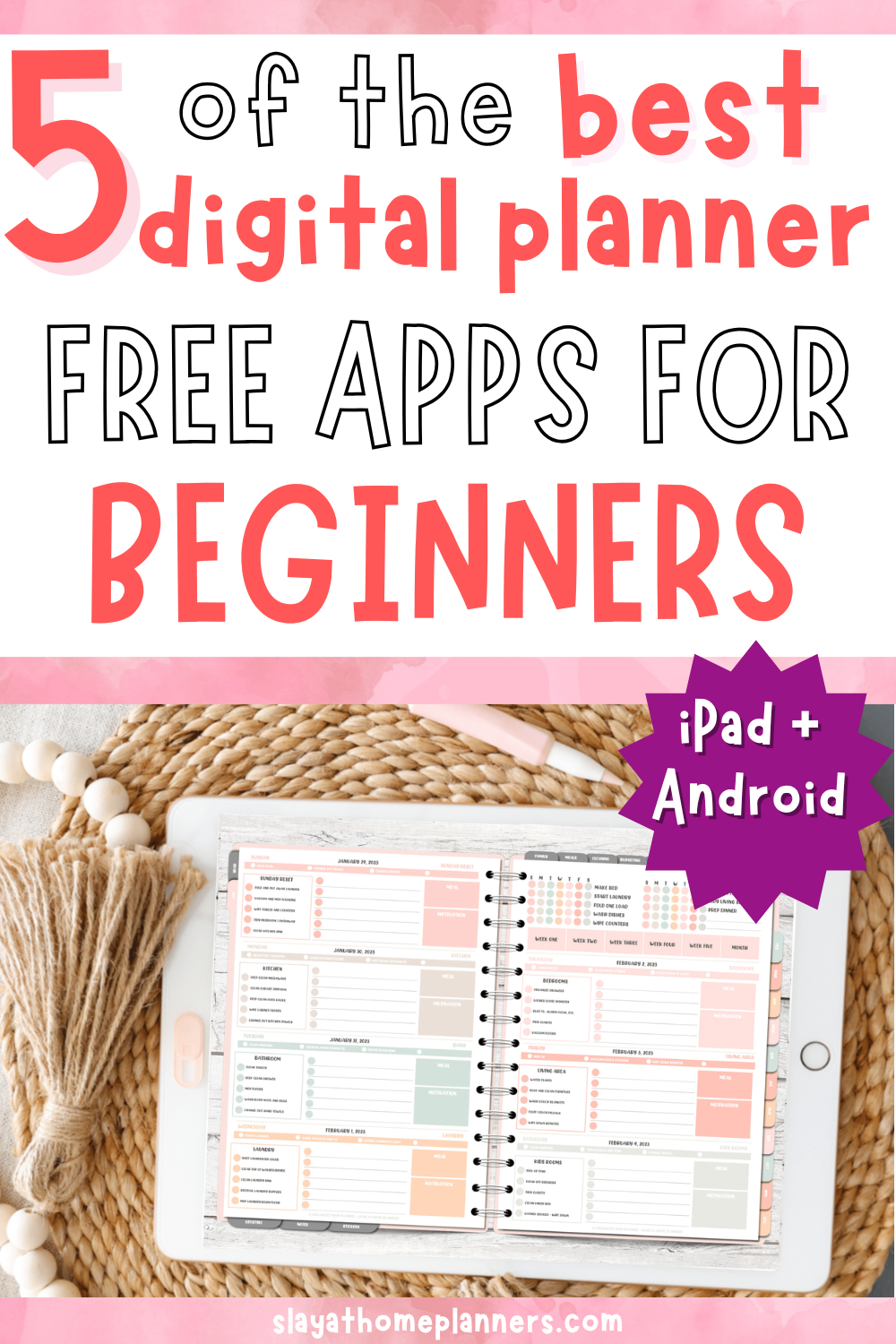 You've bought a digital planner but…wait.
WAIT JUST A HOT DOG MINUTE.
You can't write on it, or do anything you saw in that cool TikTok video that made you buy your planner.
So what gives?
Most digital planners, including the ones we lovingly design and sell, are PDF documents.
You need an app to annotate (write, highlight, add stickers, customize, etc.) your digital planner.
You need a PDF Annotation App.
Luckily, there are a few that are won't break the bank or cost you a penny.
This may change in the future, we'll try to update this post as changes occur ;).
Here's what we recommend:
Long-term planning? We recommend GoodNotes 5. All of our tutorials, videos, and how-tos feature the GoodNotes 5 app – it is user-friendly, has tons of editing features, and enables you to use digital stickers easily.
What Is A PDF Annotation App?
A PDF annotation app is simply an app that allows you to view, read, edit, and navigate your digital planner.
There are several different apps available for both iPad and Android devices.
Some of them are priced at $4.99+, while others are free.
Obviously, free apps will have lesser available features for you to use, although if you're willing to sacrifice (or know that you won't be using certain features), free apps can certainly be a real consideration.
You can search the App Store or Google Play Store for digital planning apps to find one to try!
In PDF annotation apps, you will find an editing toolbar with different options on it to help you edit your digital planner or notebook.
From our Shop
Shop our Top-Rated Mom Planning Bundles, designed to help you structure your cleaning schedule and gain back your sanity. With over 800+ pages and templates to help you with Family, Cleaning, Meal Planning, Business, Journaling, Bible Study, and more!
Top 5 Free Digital Planner Apps
Read on to see our top 5 picks for PDF annotation apps you can use on your iPad or tablet device.
Note: some apps may not be available to your device, depending on the operating system you currently have, or the device compatibility.
ZoomNotes
Offering a free and paid version of their app, ZoomNotes is regarded as a very close comparison to GoodNotes 5 (the top choice for digital planning apps on iOS).
While there are tons of features available in the free version, we do want to note that for some users, the interface and buttons appear to be dated and a little complex at first.
While there is a slight learning curve to this app, it's becoming a fast fan favorite of digital planners and certainly worth the try!
Notability
Also free, Notability is an excellent free PDF annotation app choice for digital planning on your iPad.
You can drag and drop PNG stickers right onto your digital planner pages, write and highlight, erase, and even lasso and move things similarly to the way you can in the GoodNotes 5 app.
Xodo
A great choice for Android users, Xodo is a free digital planning app.
With this app, you can select the tabs or buttons on the pages with your finger and use your stylus for annotating (writing, erasing, etc.).
Xodo is available on both Android and iOS.
Notes Writer
Why this app doesn't get more press, I'm not sure.
But it's pretty amazing!
It even includes hundreds of templates for you to practice on, take notes, and more.
A potential downside we've seen?
Lack of compatibility with digital stickers.
Flexcil
Widely loved by Android users, we couldn't leave this option out!
Flexcil has been shared with us as a viable Android digital planning app by dozens of our customers.
As devout iPad users, we can't contribute many thoughts to this option as we haven't tried it, although it appears to have the basic annotation functions required to edit your digital planner.
Do you have a favorite free PDF Annotation App that wasn't listed here? Comment below with your favorite.
*Post originally published November 2022, last updated May 2023.