Is the Organized Mom Planner Right For Me?
Not all planners are created equal. Some are designed to fit in a purse, others are large enough to double as a desktop tool.
When it comes to choosing the right planner for you, there are two main questions:
1) What do I need to track to take back my schedule?
And 2) Will it be worth my time and money?
You might also have a third question in mind, particularly if you are new to the digital planning world…
3) Is a digital planner right for me?
In this overview, we'll dive deep into the Organized Mom Planner© and see if it's the right option for busy moms who want more structure and organization in their lives.
Style And Coloring
Style is a matter of personal preference. That's why there are so many different planners out there, each with its own style.
The templates and pages in the Organized Mom Planner© come in a colorful palette hand chosen by our creator and graphic designer, Corinne Burghardt.
With soft pinks, oranges, taupes, and green blues, this planner will be kind to tired eyes in the early hours of the morning while you sip your coffee, and throughout the day.
Features of the Organized Mom Planner
The Organized Mom Planner© comes with many features that make it easy to use.
The tabs are all hyperlinked, which makes it easy to jump from one section of the planner to another.
In Read-Only mode in your digital planning app, click on any of the tab to be taken to that tab.
You'll also find hyperlinked buttons on the monthly and weekly pages and within the lifestyle tab template pages.
All of your planning pages are divided into weekly and monthly views, so you can see what's coming up in the future and plan accordingly.
In the Organized Mom Planner©, you'll find sections dedicated to:
Family
Cleaning
Meal Planning
Budgeting
Bible Study
Journaling
Holiday Planning
How Much Does the Organized Mom Planner Cost?
Here is our current lineup of digital planners:
Prices may vary from year to year, so be sure to check in with our listings for current pricing.
You can also take our quiz here and stay on our newsletter list for savings alerts and deals we send to you.
As our planner is a digital product, this is not refundable or exchangeable – however, feel free to reach out to us after your purchase if you are not happy for any reason so we can help you in any way that we can!
The planner is copyrighted and is not permitted to be sold, copied, or distributed, as detailed in our Terms of Sale.
The Planner That's Customized for Moms
The Organized Mom Planner© has a weekly layout and a monthly layout, with a cleaning schedule mapped out for you.
We give you 5 focus cleaning tasks to dedicate your time to each day.
And if you're like me, you'll make frequent use of the grocery list section and meal planner templates as well.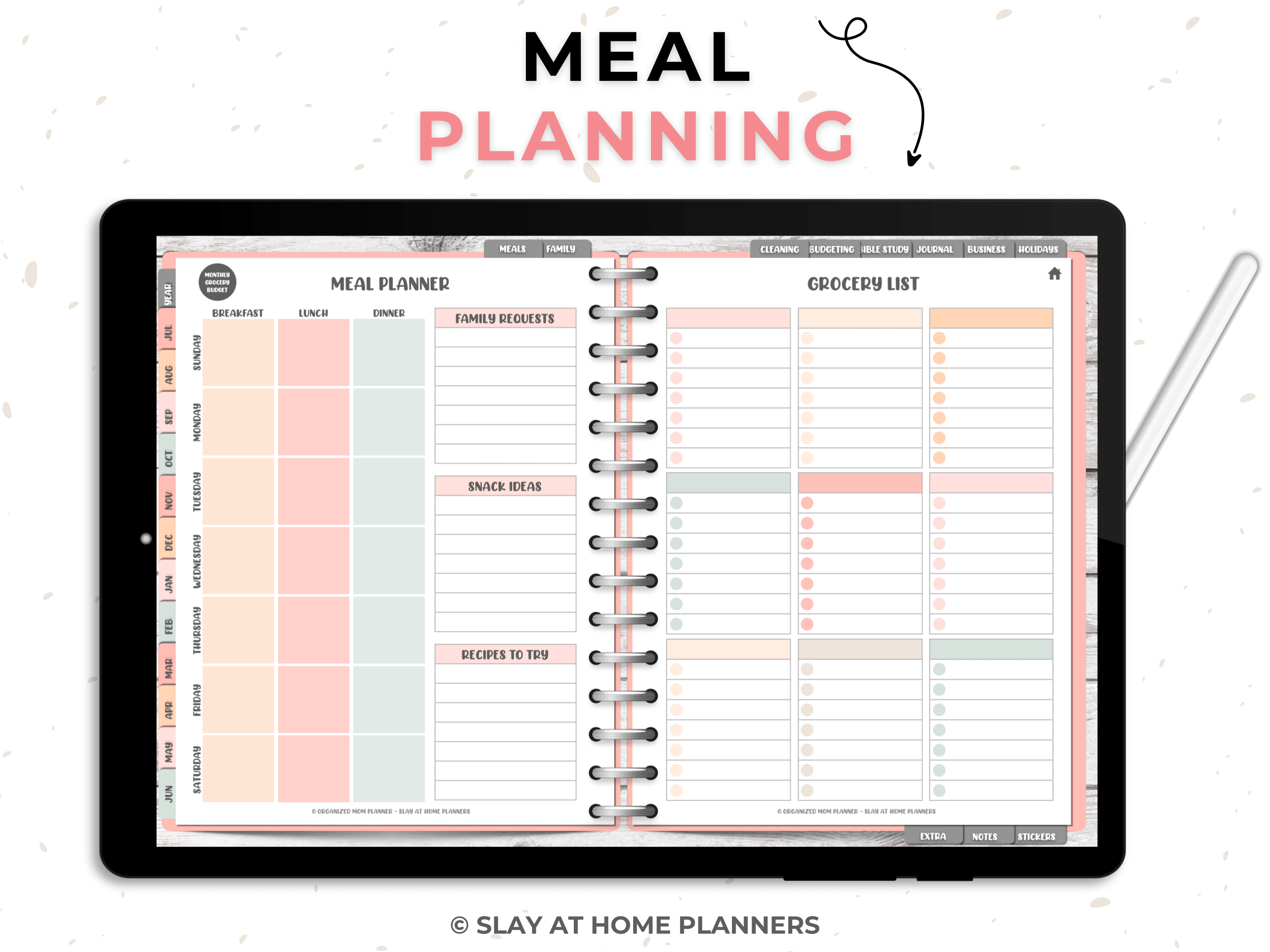 You can also find space for cleaning routines, daily to-do lists, budgeting templates, and even your goals and dreams in this baby!
Is A Digital Planner Right For Me?
If you're even a little familiar with how your iPad or tablet device works – YES!
Digital planners are much easier to use than you would think, and with your purchase comes a How-To Instruction Guide PDF that details how to use your planner, apps you can use (free and paid), and any tools needed.
Alternatively, if you've tried other digital planners and have been completely overwhelmed by the amount of things you need to do to make the planner usable (adding in widgets and stickers and basically building the planner pages yourself), you don't have to worry about that with this planner.
While there's still plenty of room for customization, widgets, and stickers, the pages within this planner have been well thought out for you already – no need to customize every single bit of the page.
Moms don't have time to build their own planners, after all – we need to get in and jot down what we need while the coffee is hot and we have a moment to remember all the details.
The Organized Mom Planner is the best option for busy moms who want more organization in their lives.
The Organized Mom Planner is the best option for busy moms who want more organization in their lives.
Organization is key to being a mom and will help you save time and money, stay on task, be efficient, productive, and feeling like a better version of yourself.
Let me explain why this planner will make your life so much easier!
What you'll love about our Digital Planners:
Here Are Some Recent Reviews We've Received:
*Post originally published June 2022, last updated May 2023.