The Organized Teacher Planner – Digital Teaching Planner Bundle
$32.99
Keep track of your lesson plans, student progress and attendance, grades, and more with this digital teaching planner.
Description
*Digital Teacher Planner Bundle – Instant Download*
Prepping, planning and teaching are some of your most important responsibilities as a teacher.
The Organized Teacher Planner© helps you achieve outstanding results by empowering you with the tools you need to get organized and plan effectively.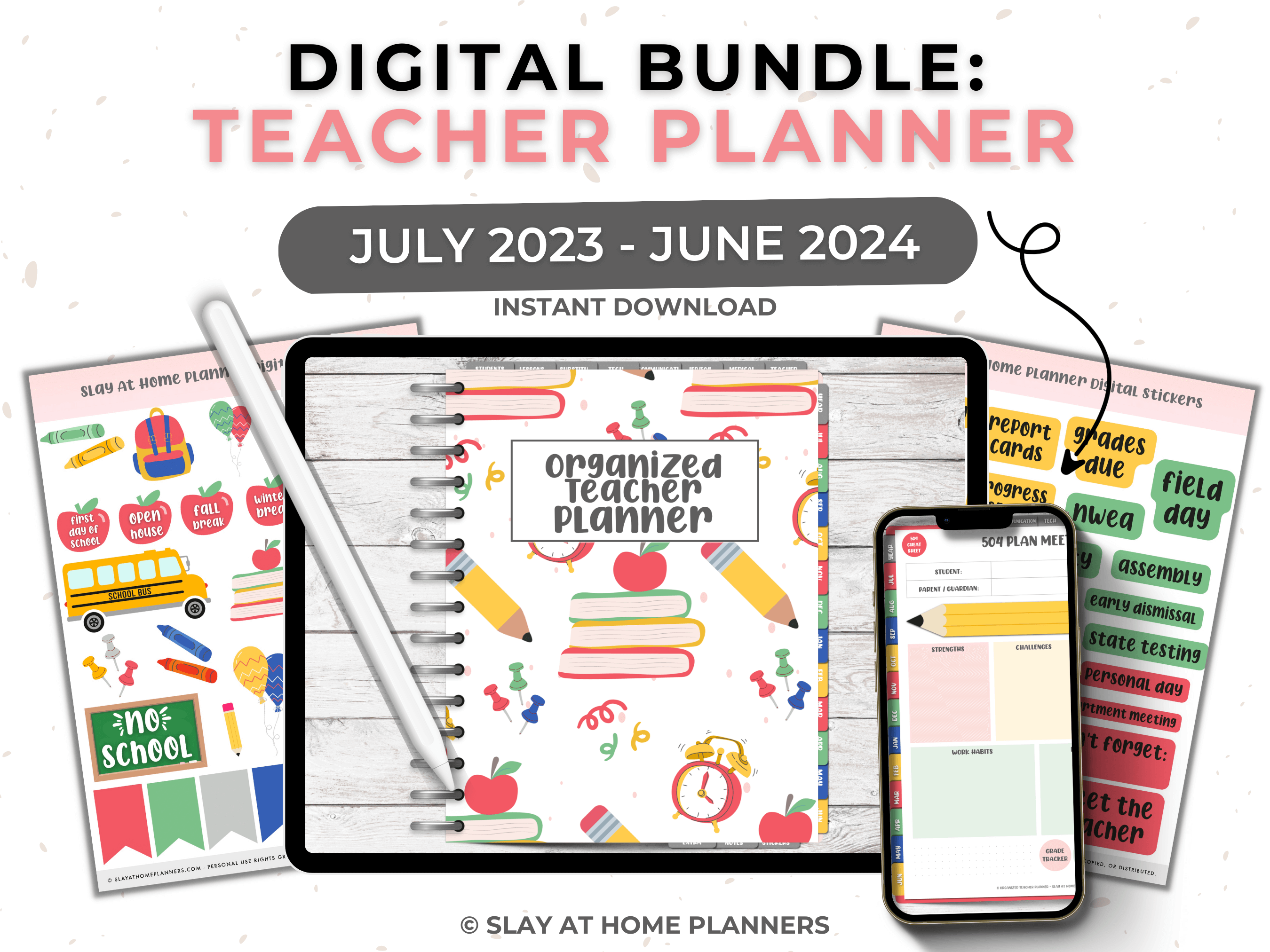 Digital Teacher Planner Bundle
This powerful digital teacher planner provides an easy way to manage lesson planning and classroom management.
It has every teacher essential organization need in one place so you can keep information both visible and organized at all times.
Keep track of your lesson plans, student progress and attendance, grades, and more with this digital teacher planner!
The Organized Teacher Planner© will help you keep on top of those little things that really make a difference in your day-to-day life as an educator.
Perfect for educators new to the field or veteran teachers looking to add some organization to their classrooms!
Digital Teaching Templates
Here are the templates included in your Organized Teacher Planner Digital Bundle:
Over 800+ teacher planning pages*
Professionally-designed lag-free digital planner under 25 MB
School calendar dated July-June
U.S. Holidays list
Monthly Themes Tracker
Fun / Wacky Holidays
Yearly Overview with Quarterly Goals
Monthly Calendar
Monthly Overviews with spaces to write your goals, meetings, events, birthdays, to-dos, and Quick Access Navigation Buttons.
Weekly Overviews with spaces for general to-dos, lesson plans, and to list anything important or motivation.
Daily Teaching Plan Template – Dated
Class List
Student Info
Student Birthdays
Seating Chart
Transportation
Grade Tracker
Attendance Logs (one for each month of the year)
Class Schedule
Specials Schedule
After-School Schedule / Activities and Notes
Reading List
Field Trip Planner
Field Trip Readiness Checklist
Lesson Planner
Theme Tracker
Unit Overviews
Unit Reflections
Assignment Tracker
Exam Tracker
Substitute Contacts List
Substitute Information
Substitute Report
Volunteers and Chaperones
Days Off Tracker
Website Logins
Tech Support
Device Check-Ins
School Info
School Staff
My Teacher Contact Info
Staff Birthdays
Staff Meetings
Parent Contacts
Parent Communication Log
Conference Schedule
Conference Notes
Students with Accommodations
504 Cheat Sheet
IEP Cheat Sheet
IEP Goal Monitoring
IEP Quarterly Goal Tracking
504 Plan Meetings
IEP Plan Meetings
Allergies
Special Medical Concerns
Guidance Counselor Meetings
Mandated Reporter Details
My Schedule (two versions included)
School Year Prep Checklist (filled-in and blank versions)
School End Prep Checklist
Class Expenses
Professional Development
10 Custom Lifestyle Sections (perfect for adding in additional templates you'd like, such as meal planning, cleaning, fitness, budgeting, etc.
Sticker Book
Notes (Graph paper, Lined Paper, Dotted Paper, and Blank Page templates included)
Peek inside the planner below…
Premium Background
Premium white wood background included for your digital planner.
What's All Included In My Purchase?
July 2023 – June 2024 Dated Organized Teacher Digital Planner
60+ Teaching Digital Stickers
PDF Instruction Guide (showing you exactly what is hyperlinked / clickable to help you navigate your digital planner)
What Do I Need For This Digital Planner?
To use a digital planner, you will need a tablet, stylus, and PDF Annotation App.
We always recommend downloading your preferred planning app onto your device to ensure it will be compatible before purchasing any digital planner.
Some of our favorite digital planning apps you can use include:
GoodNotes 5
Noteshelf
Notability
ZoomNotes
XODO
Older tablets may not be suited for digital planning. 
*Because this planner is a horizontal coiled planner, two pages fill the screen at once. The PDF file itself will be 400+ pages, but the overall planner is over 800+ digital pages separated by a coil in the center.