Sale!
2023 Organized Mom Planner MEGA BUNDLE
2023 Mega Planning Bundle
The Organized Mom Planner has everything you need to clean, organize, budget, meal plan, and more. Professionally made, lag-free, with gorgeous helpful templates for every aspect of your busy schedule. This bundle includes everything you'll need to run your household this year…
Out of stock
Description
*Instant Downloads – Digital Files*
Welcome to the Organized Mom Planner!
You know you're a busy mom because you're reading this.
We've all been there—you have a million things going on and the house is constantly in disarray. You try to get it together but it's hard to stay focused on cleaning tasks when a million other things are vying for your attention.
That's why we created this planner. With spots to schedule in your daily cleaning tasks, you can tidy your home in 15 minutes or less a day!
This digital planner will help you focus on getting your home clean, every day of the week. And once you're done?
You can move on to organizing your schedule and keeping track of important dates, events, and activities.
The Jan-Dec 2023 Organized Mom Planner Digital Bundle includes over 800+ pages to flip through, with hyperlinked buttons and tabs throughout for easy lag-free navigation.
This planner is professionally made and under 25 MB with little to no lagging (this may be impacted by the space available on your device).
Lagging refers to the delay your device displays between flipping pages – some planners that are larger or not as well-made can take minutes to refresh or flip to a new page.

Here's what you'll get in the 2023 Digital Organized Mom Planner MEGA BUNDLE:
This bundle is worth over $60 regularly. Save BIG by purchasing this bundle!
Easy Navigation With Hyperlinked Tabs and Buttons 
Jump to the page you need to by clicking on any of the hyperlinked tabs or buttons throughout this planner.
Buttons can be found within the Lifestyle tabs, on Index pages, and on the weekly and monthly views for easy navigation.
Detailed Lifestyle Tabs 
Each Lifestyle Tab is hyperlinked with Index buttons as well as buttons you can click on the pages to easily navigate to where you'd like to go in your new digital planner:
12 Calendar Monthly Overviews (dated July through June)
Weekly Overviews
Yearly Overview
Major U.S. Holidays
Yearly overview with quarterly cleaning tasks
Mini Calendars
Cleaning tasks mapped out and scheduled in for you (daily, weekly, biweekly, monthly, quarterly, and yearly tasks)
Daily overview templates
Birthdays
Contact
Medication Tracker
Medical Contacts
Extracurriculars
School Calendar
School Parties
Babysitter Information
Petsitter Information
Housesitter Information
Weekly Meal Planner
Grocery Shopping list
Pantry Inventory List
Fridge Inventory List
Recipe Cards
Monthly Grocery Budget
Tidying Checklist
Spring, Summer, Fall, and Winter Cleaning Checklists
Chore Chart
Master House Cleaning Checklist
Organizing Checklists
Cleaning Recipe Cards
Yearly Cleaning Overview/Tasks
Savings Tracker
Credit Summary
Debt Snowball
Detailed Monthly Budgeting (one section for each month)
Debt Tracker
Credit Review
Bible Study Tracker
Self-Reflection
God Is Teaching Me
Verses To Study
Bible Study Plan
Monthly Journaling
Memory Keeper
Mood Tracker
Habit Tracker
Vision Board
Goals and Dreams
Brain Dump
Password Keeper
Expense Tracker
Time Blocking
Project Planning
Monthly Action Plans
Content Planner
Holiday To-Dos
Thanksgiving Plan
Black Friday Shopping
Cyber Monday Shopping
Christmas Gift List
Christmas Savings and Christmas Budget
Christmas Plan
Advent Activities List
Holiday Traditions
Baking Recipe Cards
Christmas Card Tracker
Birthday Party Planning
Holiday Party Planning
Monthly Overviews
This digital mom planner is dated January 2023 – December 2023.
Each monthly view is dated for you.
Navigate with ease to each week of the month with multiple hyperlinks on the monthly page.
12 dated calendar months (Jan-Dec) with hyperlinked weekly buttons so you can easily navigate to the weeks of each month
Weekly Overviews
Dated weekly overviews within each month with focus cleaning tasks for the day scheduled for you, spots to write your daily cleaning tasks, meal, motivation (great spot for digital stickers!!), and daily to-dos.
Each Weekly Page links to other week pages within the month you're in, as well as the main month page.
Check off daily cleaning tasks to help stay on track.
This planner is a horizontal layout planner (landscape orientation), and will fill up your screen longways. You can still use this planner vertically (portrait mode), just pinch your fingers and push apart on your tablet screen to zoom in on the page.
Blank Custom Pages In Each Section
For future insert releases (individual pages and bundles) we release, we've thought ahead and included a blank page within each section for you to easily add these as they are released.
Note Pages
Planner includes additional graph paper, dotted paper, and lined paper templates for note-taking and journaling.
Custom Lifestyle Sections
Want to add even more to your planner? We've included 44 additional customizable sections where you can add extra templates, inserts, doodles, stickers, and whatever else you'd like.
An Index page contains hyperlinks so you can easily navigate to each custom section.
Sticker Book
Need a spot for all of your digital stickers? Use our blank sticker book pages for easy keeping and storage.
440+ Designed Digital Stickers & Widgets
Decorate your 2023 Organized Mom Planner© with color-coordinated digital stickers (GoodNotes file and PNG files included).
Stickers include common house cleaning tasks, cleaning checklists, cleaning-themed stickers, banners, sparkles, and more.
You'll receive three formats of stickers:
We also update our Free Resource Libary each month with new themed digital stickers you can use for your planner and have access to the PDF version, PNGs, and GoodNotes files depending on the format you need. 
Mega Bundle Bonuses Included
You also receive a hyperlinked digital journal with 22 tabs and an index page, Printable Family Chore Chart, and Printable Cleaning Checklists (filled in and blank versions included), as well as a free Canva editable template link so you can fill in and print off your checklist if you wish to.
A free Canva account is required to access your template link. 
Each month, we'll release a new digital sticker pack to the Free Resource Library (password-protected for our customers).
You'll also get first access to new releases, a chance to beta-testing products, and more.
With your purchase, we'll send you a PDF Instruction Guide that quickly walks you through how to use your planner, how to use hyperlinks, and where hyperlinks are located within your 800+ page planner.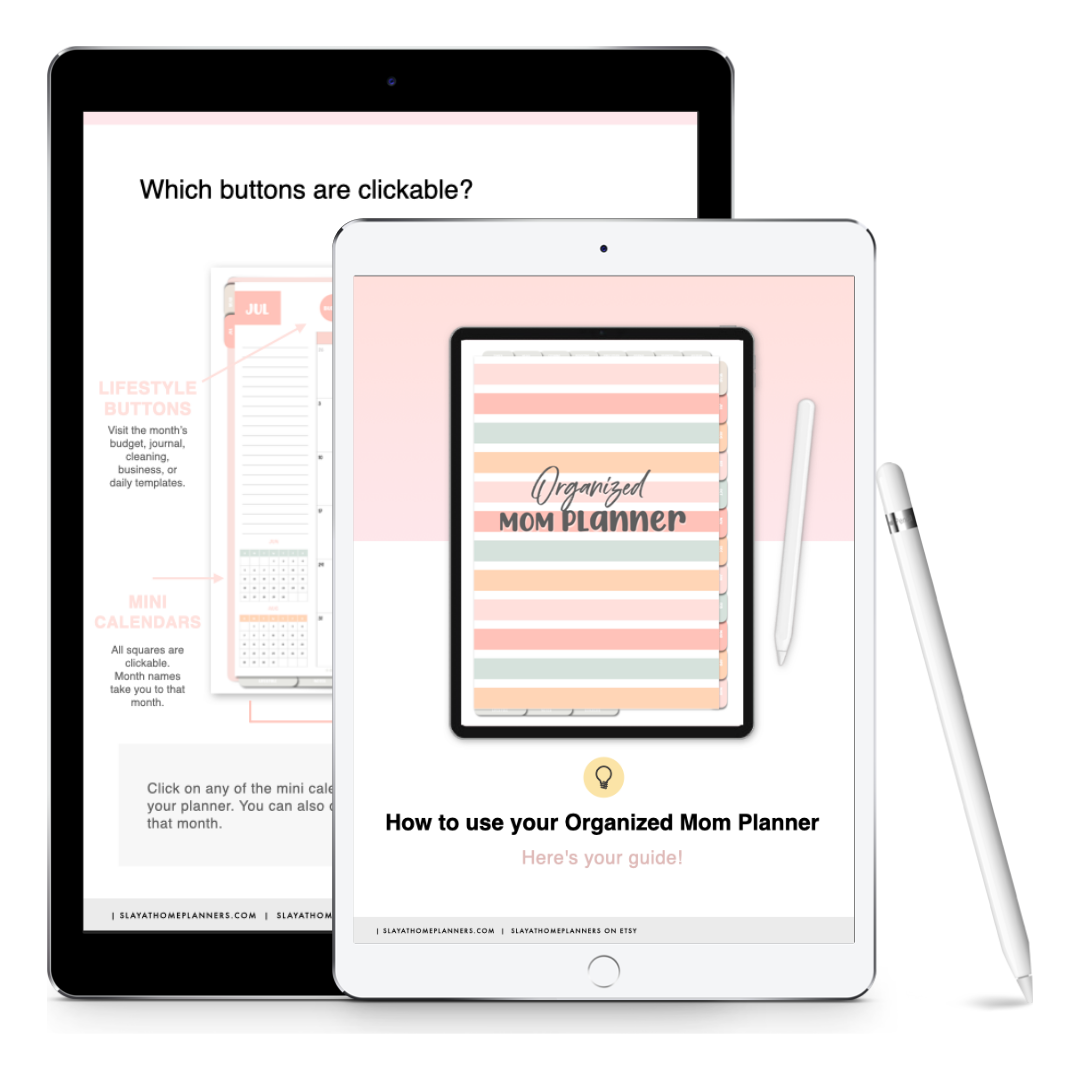 If you'd like a less structured version of this planner that you can use over and over without dates, check out our Undated Organized Mom Planner Digital Bundle.
This is a digital product – available for instant download once payment clears. Please refer to our Terms of Sale page for more information before purchasing.