2023 Organized Life Planner Bundle
$32.99
*NEW* 2023 ORGANIZED LIFE PLANNER – a portrait-style take on our premier digital planning bundle for Busy Moms, with over 700+ digital pages…
Out of stock
Description
*Instant Downloads – Digital Files*
Welcome to the Organized Life Planner – the #1 life planner for moms ⭐️⭐️⭐️⭐️⭐️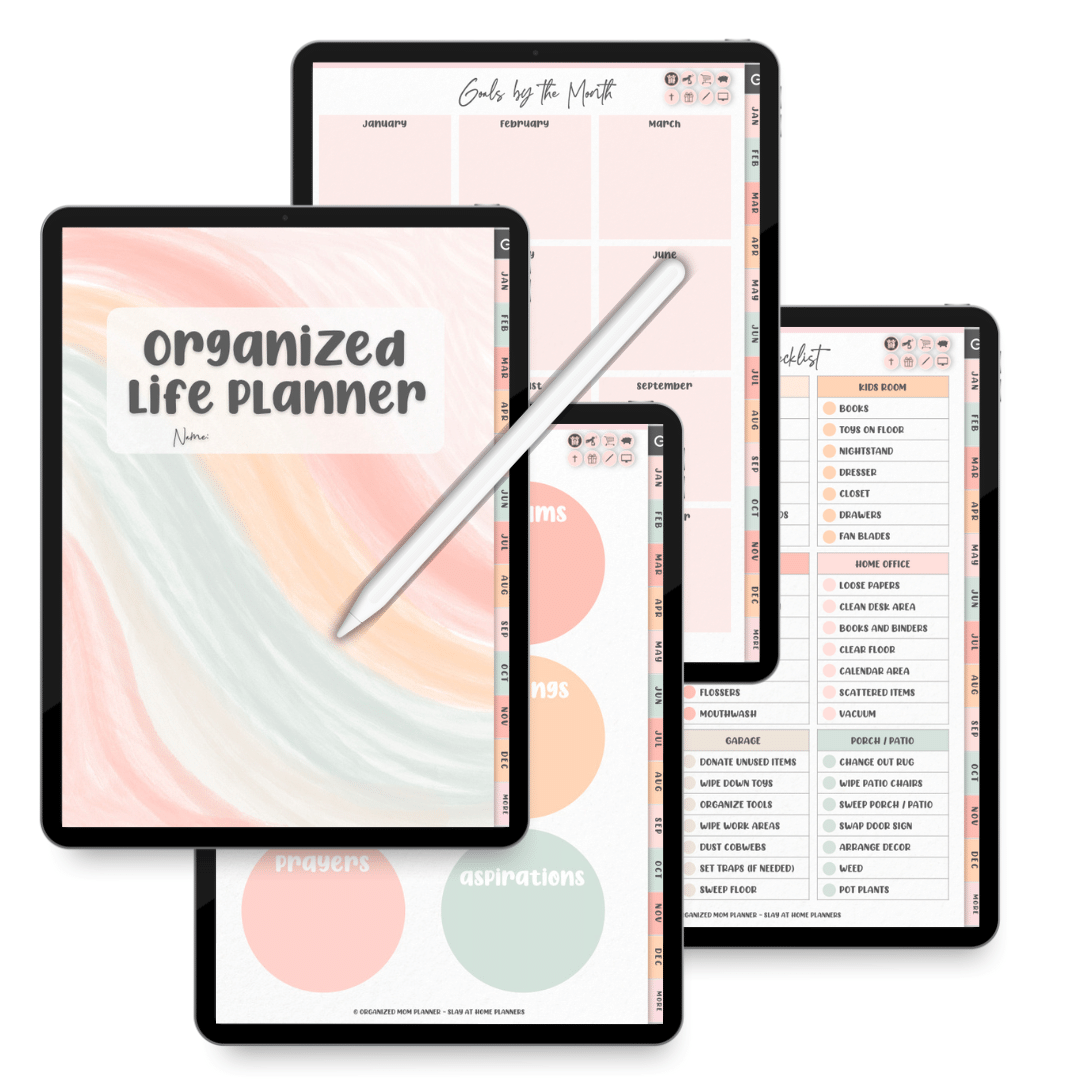 2023 Organized Life Planner (Vertical / Portrait Style Layout)
The Vertical Organized Life Planner Digital Bundle includes over 730+ pages to flip through, with hyperlinks for easy lag-free navigation.
This home planner is professionally made and under 25MB and is lag free (this may be impacted by the space available on your device).
(Lagging refers to the delay your device displays between flipping pages – some planners that are larger or not as well-made can take minutes to refresh or flip to a new page.)
What's included:
-12 Calendar Monthly Overviews (dated January through December 2023)
-Weekly Overviews
-Daily Templates
-Yearly Overview
-Birthdays
-Contacts
-Medication Tracker
-Medical Contacts
-Extracurriculars
-School Calendar
-School Parties
-Babysitter Information
-Petsitter Information
-Housesitter Information
-Weekly Meal Planner
-Grocery Shopping list
-Pantry Inventory List
-Fridge Inventory List
-Recipe Cards
-Baking Cards
-Monthly Grocery Budget (one of each of the 12 months)
-Decluttering Checklist (filled in and blank versions)
-Tidying Checklist (filled in and blank versions)
-Spring, Summer, Fall, and Winter Cleaning Checklists
-Chore Chart
-Kids Chore Ideas
-Master House Cleaning Checklist (filled in and blank versions)
-Organizing Checklists and Drawing Pages
-Cleaning Recipe Cards
-Yearly Cleaning Overview/Tasks
-Savings Tracker
-Credit Summary
-Debt Snowball
-Detailed Monthly Budgeting (5 pages for each month)
-Debt Tracker
-Credit Review
-Bible Study Tracker
-Prayer Journal
-Self-Reflection
-God Is Teaching Me
-Verses To Study
-Bible Study Plan
-Monthly Journaling
-Memory Keeper
-Mood Tracker
-Habit Tracker
-Vision Board
-Goals and Dreams
-Brain Dump
-Password Keeper
-Expense Tracker
-Time Blocking
-Launch Dates
-Content Planner
-Blog Post Ideas
-Blog Post Schedule
-Blog Post Planner
-Newsletter Ideas
-Ideal Customer + Reader
-Goals By the Month
-Quarterly Goals
-5-Year Plan
-Project Planning
-Monthly Action Plans
-Content Planner
-Holiday To-Dos
-Thanksgiving Plan
-Black Friday Shopping
-Cyber Monday Shopping
-Christmas Gift List
-Christmas Savings and Christmas Budget
-Christmas Plan
-Advent Activities List
-Holiday Traditions
-Baking Recipe Cards
-Christmas Card Tracker
-Birthday Party Planning
-Holiday Party Planning
Each page, button, and tab is hyperlinked and lag-free – making this life planner super easy to navigate.
Vertical layout / Portrait layout planner.
Custom pages are included at end of each lifestyle tab to incorporate additional templates, notes, or other pages.
Additional 12 sections are included as well that you can label and use to add in extra templates, inserts, and pages.
Each lifestyle tab has an index page with buttons to help you navigate to the template you would like to use.
You will receive a PDF Instruction Guide detailing how to use your digital life planner, what is hyperlinked (clickable), and more.
Also includes 50+ digital stickers PNGs to help you start digital planning.
If you've been searching for home planners to find the perfect one – this is it!
Quick Note About This Planner:
While the Original 2023 Organized Mom Planner (horizontal layout) boasts a cleaning schedule that is already filled in for you, this planner gives you the freedom to schedule your cleaning tasks as you like!
If you prefer to have our cleaning schedule in your 2023 planner, we recommend the 2023 Organized Mom Planner (Horizontal Layout). 
BONUS:
Pink Digital Journal with 22 Hyperlinked Tabs included in your purchase.
2023 Organized Life Planner (Digital)
Detailed Instruction Guide
50+ Digital Stickers – GoodNotes File
50+ Digital Stickers – PNG files with transparent backgrounds
Digital Sticker Subscription thru 2023
*This is a digital product – available for INSTANT DOWNLOAD. Have questions before you purchase? E-mail us at hello @ slayathomeplanners.com.